The Victoria Guitar Trio, featuring Michael Dias, Adrian Verdejo, and Bradford Werner, is one of Canada's premier classical guitar ensembles. All three guitarists have extensive experience performing in both solo and ensemble settings. Individually they have all obtained professional musical degrees through their years of study and have dedicated themselves to the love the guitar. The Trio's concert repertoire spans vast periods and stylistic borders; from Renaissance lute music, to contemporary Canadian guitar compositions, to Latin America and Jazz inspired works. Adrian, Bradford and Michael enthusiastically share their passion for the classical guitar's rich history through their performances and with their students. All three members are active faculty guitar instructors at the Victoria Conservatory of Music.
---
Adrian Verdejo
B.Mus, University of Victoria; M.Mus, University of Ottawa (Guitar Performance). Adrian Verdejo is a classical and electric guitarist based in BC, Canada. Born into a musical family in Regina, Saskatchewan, Adrian began his musical studies in piano and guitar at the age of seven. He earned his Bachelor of Music degree studying under Stephen Boswell and Dr. Alexander Dunn and a Master of Music under Patrick Roux. He has also performed in the master classes of classical guitarists as Pepe Romero, David Tanenbaum, Roland Dyens, Nigel North, Paul-André Gagnon, Michael Partington, Brian Johanson, Ron MacFarlane, William Kannengeiser, Adam Holzman, Fabio Zanon, Benjamin Verdery, Judicaël Perroy, Philip Candelaria and the Canadian Guitar Quartet. Adrian has won numerous scholarships and top prizes in guitar competitions in Canada and the United States. Specializing in the interpretation of contemporary music, Adrian has premiered several new works for the guitar. Adrian Verdejo also performs with his sister Meghan Verdejo, violist, in Duo Verdejo and with flautist Diana Lam. Adrian currently resides in Victoria, Canada where he is a devoted and enthusiastic guitar instructor.
Webpage: www.adrianverdejo.com
---
Michael Dias

B.Mus, University of Calgary; M.Mus, University of Victoria (Guitar Performance). An enthusiastic performer, musicologist and teacher, Michael Dias completed a Masters of Music in classical guitar performance under Dr. Alexander Dunn at the University of Victoria (UVic) in 2008. A Calgary native, he previously studied under Jacob Salomons and has had the opportunity to play in masterclasses with reknowned artists such as David Tanenbaum, Roland Dyens, Benjamin Verdery, Adam Holzman, Judcael Perroy and Carlos Barbosa-Lima. Michael was the recipient of the first prize at the 2008 Northwest Guitar Festival. He is the Managing Editor of the UVic School of Music's annual journal, Musicological Explorations, and is currently conducting research in the field of twentieth-century sketch study towards the completion of a PhD in musicology.
---
Bradford Werner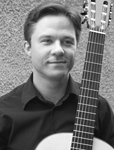 AVCM (Performance/Teaching); Diploma (Camosun); Examiner and instructional faculty member at the Victoria Conservatory of Music; VCM Collegium Chamber Coach; theory and musicianship instructor for Sound Advice plus Guitar. Originally from Nelson, British Columbia, Bradford now resides in beautiful Victoria where he teaches and works as a freelance musician. He studied with Alexander Dunn, Stephen Boswell, Wes Wraggett, Stephen Brown and Murray Visscher. Many of his students have won prizes in the Greater Victoria Music Festival and the BC Provincial Competition. In 2009 he was a finalist in the Northwest Guitar Festival Competition. Brad is currently working with Adrian Verdejo and Michael Dias as a member of the Victoria Guitar Trio and Quelus Guitar Duo premiering new works with a focus on Canadian content. Brad is also busy writing for his classical guitar blog: Classical Guitar Canada.
Webpage: bradfordwerner.ca
---